Writing this entry as a form of (indirect) thanks to all those other bloggers who stuck up their own lists for curious would-be-travelers. They really helped! Anyway, I had a blast in Ho Chi Minh, and I'd definitely go back to Vietnam, maybe to sniff out Hanoi or Hoi An or Hue. (I love that all these places start with the letter H). And definitely, to eat.
So here's my list of things to do in Ho Chi Minh/Saigon. Enjoy!
1) Eat Banh Mi at Greenleaf Cafe (Bongsen Hotel, 117 - 123 Dong Khoi Street
District 1, Ho Chi Minh City, Vietnam.
)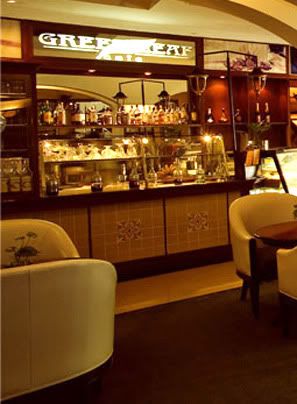 If you're walking down Dong Khoi, chances are you'll come across this government-run hotel and its restaurant, which will have a small Banh Mi cart out front. Banh Mi is a Vietnamese sandwich made out of various fillings inside a hollowed-out baguette. Greenleaf has pork, chicken and beef, and all three are absolutely delicious. At VND 31,000 for half a loaf (around 6 inches) it's definitely value for your money. My only regret is that we discovered this on our last day.
2) Drink Jasmine tea with longgan flower honey by the Mekong
A bottle of honey is around $7-8, produced by the hardworking bees and packaged by the riverfolk of Vinh Long. It goes great with jasmine tea, adding just the right amount of sweetness, and you can try it for yourself before buying.
3) Take a walking tour of District 1
Home to a lot of the recommended tourists spots you'll see on the interwebs, District 1 boasts various hotels and posh stores as well. Dong Khoi is the main street, but other, smaller roads are worth exploring as well--who knows what you'll find! There are a lot of nice restaurants scattered throughout, in case you need a break.
Skip: A guided tour of the sights. Famous buildings like the Opera House, the Reunification Palace, Ben Thanh, City Hall, Notre Dame and the Post Office are all walking distance from each other. You'll be able to see the streets of Saigon up close and personal if you walk, and get to go at your own pace. Use the tour money for souvenirs or longer tours instead. (Remember to bring a map, though!)
4) Visit Ben Thanh Market (

Ben Thanh Market, Le Loi, District 1

)
It's crowded dark, and in the noontime, the heat can be hellish, but it's a one-stop spot for all your touristy needs, and otherwise. They've got conical hats, iPho T-shirts, woven bags, pearls, mangosteen, table runners, lacquerware, figurines, etc. You can spend an entire afternoon here. The prices may seem ridiculously high at first, but as in most flea markets, haggling is expected. There are several techniques, but use the one which best suits your personality. My mom prefers arguing, while I prefer walking away while the lady shouts lower prices after me.
Skip: The souvenir shops along Dong Khoi selling the same things, but at a fixed price way more expensive than what you can get at Ben Thanh.
5) Eat as much as you can.
I'm no food expert, but I do know that this was one of the most memorable foodtrips I've ever been on. The taste of everything HCM haunts me to this very day. It must be the fish sauce. My advice would be to sample as much of the food this city offers. Places we ate at: Ciao Cafe, Lemongrass Cafe, Quan An Ngon 168, Wrap & Roll, Green Leaf Cafe, and at a house in Vinh Long. We also had some chestnuts from Ben Thanh and Trung Nguyen coffee courtesy of our hotel. :)
Lastly--Things I didn't get to do, but wanted to:
2) PURCHASE SOME VIETNAMESE FISH SAUCE. A little dish of this was served with most of the food we had. It is the reason for Vietnamese deliciousness, methinks. Should be available at the nearest grocery.
3) Hoard Banh Mi and take it all home. (If only.)